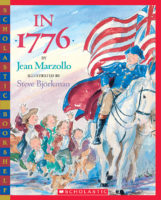 When the American colonists felt they were being treated unfairly by the British, they decided to do something about it. With the help of brave citizens like George Washington and Thomas Jefferson, America won the Revolutionary War and the Declaration of Independence was born. With fun and fact-filled verse and playful illustrations, IN 1776 is perfect for introducing young readers to America's early history and the importance of Life, Liberty, and the pursuit of Happiness.
"As in In 1492, this author/illustrator collaboration shows that difficult concepts of history can be made understandable to young children. Bjorkman's watercolors steal the show here, as they give youngsters an authentic look at what it was like when the colonists rebelled against British rule. Architecture and artifacts are accurately portrayed. Colonial dress, military uniforms, and even King George's robes are rich in detail. A preface, "Helping Children Understand the American Revolution," gives background on our country's fight for independence. In 1776 deserves a place on most library shelves." — School Library Journal

Ages

7, 8, 9, 10

Interest Level

Grades 2 - 5

Publisher

Scholastic Inc.

Number of Pages

32

Genre

Informational Text
About the Author and Illustrator
Jean Marzollo
When I was young, I liked to sew, play baseball, and read. I was drawn to poetry early in life. I loved to read, and one of my favorite books as a child was A Child's Garden of Verses by Robert Louis Stevenson. Also, my mother had several small poetry books on her bookshelf. With their leather covers and gold titles, they were treasures to me.
Steve Björkman
Illustrator Steve Björkman
The Reading Toolkit