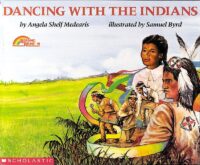 Dancing with the Indians
by Angela Shelf Medearis Illustrated by Samuel Byrd
Angela Shelf Medearis' great-grandfather, Papa John Davis, escaped from slavery and made his way to Oklahoma, where he was eventually accepted as a member of the Seminole tribe. Even after he left his Indian brethren and settled in Oklahoma City with his African-American wife, Papa John maintained his ties to the Seminoles and twice a year returned with his family to take part in the Indian pow-wow.
Papa John's story is the inspiration for Dancing with the Indians, which recounts a visit his grandchildren make to a pow-wow during the 1920's. The festivities begin with the Ribbon Dance as the women shake tinkling shells on their wrists and ankles and moccasin-clad dancers swirl rainbow-colored ribbons. Fire flames rise high and drum beats sound as the men do a war dance. The whole night through, the Indians dance and tell stories of their ancestors, and through it all, the children and grandchildren of Papa John take part and are welcomed.
All the action and mystery of an Indian pow-pow come to life in Samuel Byrd's evocative pictures. His watercolors are alive with color and motion and beautifully underscore Angela Shelf Medearis' musical verse, which pays homage to her ancestors and offers young readers a window into a little known piece of American History.
Ages

4, 5, 6, 7, 8

Interest Level

Grades PreK - 3

Lexile Measure

AD600L

Guided Reading

M

Number of Pages

1

Genre

Historical Fiction
About the Author and Illustrator
Angela Shelf Medearis
Children's author Angela Shelf Medearis started writing to make sure young African Americans could see themselves reflected in the books they read. Medearis currently directs Book Boosters, a multicultural program that concentrates on the reading of creative writing and drama.
The Reading Toolkit