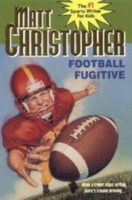 Football Fugitive
by Matt Christopher Illustrated by Larry Johnson
Representing a pro football player whom his son admires brings a lawyer closer to his young son.
Interest Level

Grades 3 - 5
About the Author and Illustrator
Matt Christopher
Matt Christopher was a gifted athlete as a youth and became interested in writing at age fourteen. He has written more than one hundred books as well as nearly three hundred short stories and article.
The Reading Toolkit