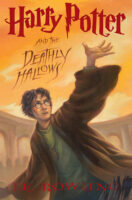 Harry Potter and the Deathly Hallows
by J. K. Rowling Illustrated by Mary GrandPré
It's no longer safe for Harry at Hogwarts, so he and his best friends, Ron and Hermione, are on the run. Professor Dumbledore has given them clues about what they need to do to defeat the dark wizard, Lord Voldemort, once and for all, but it's up to them to figure out what these hints and suggestions really mean. Their cross-country odyssey has them searching desperately for the answers, while evading capture or death at every turn. At the same time, their friendship, fortitude, and sense of right and wrong are tested in ways they never could have imagined. The ultimate battle between good and evil that closes out this final chapter of the epic series takes place where Harry's Wizarding life began: at Hogwarts. The satisfying conclusion offers shocking last-minute twists, incredible acts of courage, powerful new forms of magic, and the resolution of many mysteries. Above all, this intense, cathartic book serves as a clear statement of the message at the heart of the Harry Potter series: that choice matters much more than destiny, and that love will always triumph over death.
Series Information: Eleven-year-old Harry Potter is an orphan living with his cruel aunt and uncle when he makes a discovery that will change his life forever: he is a wizard. He is whisked away to the mystical Hogwarts School of Witchcraft and Wizardry to learn magical skills, from potions to spells to flying on broomsticks. But an evil power is rising, the same one that threatened to destroy the entire world when Harry was only a baby. As Harry learns the truth about his family, his childhood, and his mysterious lightning-bolt-shaped scar, he finds unforgettable friendship, a loving surrogate family, and the courage to face the darkest force ever to menace the wizarding world. These charming and engrossing books bring an intensely detailed and captivating world to life and are perfect for enjoying individually or reading aloud.
Ages

8, 9, 10, 11, 12, 13

Interest Level

Grades 3 - 5

Lexile Measure

880L

DRA

70

Guided Reading

Z

Publisher

Scholastic Inc.

Number of Pages

784

Genre

Adventure, Fantasy
About the Author and Illustrator
J. K. Rowling
Joanne Rowling, author of the Harry Potter book series, was born in Chipping Sodbury near Bristol, England. After she graduated from Exeter University, she found work as a secretary, and later spent time teaching English in Portugal before moving to Edinburgh, Scotland, with her daughter. She currently resides in Scotland with her husband and three children.
Mary GrandPré
Mary GrandPré uses her artistic talents to transform the images of Harry Potter from words to pictures. She lives in Minnesota with her husband, Tom Casmer, and dog, Chopper. The dog is part Saint Bernard, shepherd, and Lab.
The Reading Toolkit