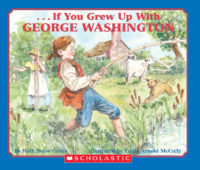 If You Grew Up with George Washington
by Ruth Belov Gross Illustrated by Emily Arnold McCully
Told in a highly readable question-and-answer format, this informational book has an easy, chatty style that suits its old-fashioned subject matter. Handily, all the questions are listed in the table of contents for quick reference. The author of many historical books for children, Ruth Belov Gross begins with background about the state of Virginia, George Washington's birthplace, and the kinds of people who readers will be introduced to in the book: farmers, planters, people in the back country, and slaves. Cartoon drawings that match the colored typeface of the questions are found on every page.
Curious readers will find answers to common questions, and enjoy discovering more esoteric information, such as the truth about the composition of George Washington's false teeth (not wood, as is popularly believed, but actually the tusk of a hippopotamus!). Also discussed are topics, including the kind of house George Washington lived in as a little boy, the cooking and bathing facilities of colonial homes, how people lit these homes before the invention of electricity, modes of transportation, types of laws regarding voting and land-ownership, dissemination of news, and the interaction of Indians and colonists. Customs such as children's games, schooling, diet, medical practices and fashion are thoroughly covered. Use this wonderful book as an introduction to colonial life as well as a supplement to biographical information about America's first president.
Ages

7, 8, 9, 10

Interest Level

Grades 2 - 5

DRA

40

Guided Reading

Q

Publisher

Tandem Library
About the Author and Illustrator
Ruth Belov Gross
Ruth Belov Gross has written numerous books for children, specializing in nonfiction and retellings of traditional tales.
The Reading Toolkit