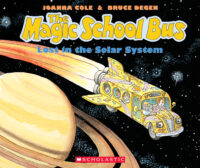 The Magic School Bus Lost in the Solar System
by Joanna Cole Illustrated by Bruce Degen
A field trip fizzles out when Ms. Frizzle arrives at the museum with her class only to find that the planetarium is closed! Luckily, they've got the world's most science-friendly form of transportation: The Magic School Bus. Soon the class is zooming out of the stratosphere on a tour of the real solar system, with bus stops at the moon, the sun, Mercury, Venus, Mars, and planetary points beyond. Along the way they dish up comically cosmic puns, plus jokes like "Could Saturn take a bath? Yes, but it might leave a ring!" By the time they make it back to the classroom at the end of the day, they've become veteran space explorers with lots of out-of-this world tales to tell.
Series Information: Ms. Frizzle is a teacher like no other; she's bold, offbeat, and kind of wacky. But she loves science and her enthusiasm quickly rubs off on her students. Why learn in a classroom when there's a magical school bus that can whisk everyone off to the center of the action? Whether they're traveling to ocean floors, outer space, or active volcanoes, Ms. Frizzle's class enjoys hands-on learning. And thanks to the way each book is formatted — with speech bubbles, notebook pages, data files, and ink sketches — readers feel like they're part of the adventure too. With an approach to learning that's both exciting and informative, this clever series invites readers to share in the thrill of scientific discovery.
Ages

7, 8

Interest Level

Grades 2 - 3

Guided Reading

P

Publisher

Scholastic Inc.

Genre

Adventure, Fantasy, Informational Text
About the Author and Illustrator
Joanna Cole
Children's author Joanna Cole's work includes The Magic School Bus series.
Bruce Degen
Children's book author Bruce Degen's work includes The Magic School Bus Series.
The Reading Toolkit