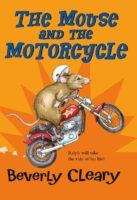 The Mouse and the Motorcycle
by Beverly Cleary Illustrated by Louis Darling
Young Ralph lives in a knothole in room 215 of the Mountain View Inn, and in his short life he's seen plenty of families come and go. The only difference, it seems, is that some are more generous with their crumbs than other. Then Keith and his parents check in, and they've brought something new: a toy motorcycle that's just the right size for an adventure-seeking mouse! Ralph has always dreamed of venturing beyond the second floor, and now is his chance. Unfortunately, his first attempt at a ride lands him right at the bottom of the wastepaper basket, where he has to wait for someone to find him. Luckily, Keith is sympathetic, and generously encourages Ralph to ride. He teaches him the secret to starting the bike ("You have to make a noise...pb-pb-b-b-b") and the tiny mouse adventurer is on his way!
This imaginative, best-selling novel is the first of a series starring Ralph and his motorcycle. Beverly Cleary is the acclaimed author of more than two-dozen books for children, including many award-winners, and the recipient of the Laura Ingalls Wilder Medal for 40 years of distinguished writing for children. While the fantastical premise of The Mouse and the Motorcycle contrasts distinctly with the realism of her beloved Ramona stories, Cleary uses the same sensitivity to children and their concerns to make the mouse, his friend, and his adventures ring true, something her devoted readers most certainly appreciate.
Ages

8, 9

Interest Level

Grades 3 - 4

Guided Reading

O

Genre

Adventure, Classics
About the Author and Illustrator
Beverly Cleary
Children's author Beverly Cleary is the creator of the infamous Ramona Quimby. She wrote her first book, Henry Huggins, in her early thirties.
The Reading Toolkit