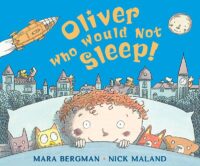 Oliver Who Would Not Sleep
by Mara Bergman Illustrated by Nick Maland
Oliver Donnington Rimington-Sneep COULDN'T and DIDN'T and WOULD NOT SLEEP! And why should he? As soon as his parents shut his door, Oliver's off on all kinds of explorations: painting and reading, drawing and racing — and a little trip to Mars for good measure. But his explorations end where all explorations should: safe at home, in a warm bed... asleep.
For every parent with an Oliver (or Olivia) in their lives, and every child seeking a little fun before shut-eye, Oliver Who Would Not Sleep is the perfect bedtime adventure!
Ages

4, 5, 6, 7, 8

Interest Level

Grades PreK - 3

Publisher

Scholastic Inc.

Number of Pages

32

Genre

Poetry, Songs, Verse
About the Author and Illustrator
Mara Bergman
Mara Bergman is the author of Oliver Who Would Not Sleep!
The Reading Toolkit