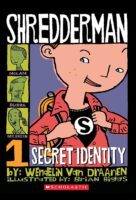 Shredderman #1: Secret Identity
by Wendelin Van Draanen Illustrated by Brian Biggs
Alvin Bixby: Hulking, knuckles of steel, hideous breath, foul temper. Kids call him: Bubba.
Nolan Byrd: Puny, power walker, math genius, can't keep shoes tied. Kids call him: Nerd.
Bubba has been the bane of Nolan's existence for five long years. So when Mr. Green asks the class to become reporters, Nolan decides he'll write an expose — on Bubba. He doesn't want to sign his name to it (that'd be suicidal), so Nolan creates a secret identity for himself — on the Internet. He launches Shredderman.com as a place where truth and justice prevail — and bullies get what's coming to them.
This hilariously triumphant story is for any kid who's ever dreamed of unleashing their own inner superhero!
Ages

8, 9, 10

Interest Level

Grades 3 - 5

Publisher

Alfred A. Knopf Books for Young Readers

Number of Pages

144

Genre

Adventure, Comedy and Humor, Realistic Fiction
About the Author and Illustrator
Wendelin Van Draanen
In addition to the Sammy Keyes series, Wendelin Van Draanen is also the author of the Shrederman books and the novels Flipped and Swear to Howdy. Today you will find Wendelin Van Drannen in California with her two sons and her husband who happens to have a knack for helping her brainstorm ideas for her books.
Brian Biggs
Brian Biggs is an illustrator, designer, graphic novelist, and accordion player. He lives in Philadelphia, PA.
The Reading Toolkit