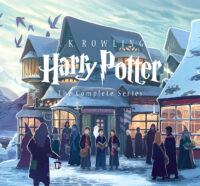 Special Edition Harry Potter Paperback Box Set #1-7
by J. K. Rowling Illustrated by Mary GrandPré, Kazu Kibuishi
The perfect gift for collectors and new readers alike, we now present a breathtaking special edition boxed set of J. K. Rowling's seven bestselling Harry Potter books!
The box itself is beautifully designed with new artwork by Kazu Kibuishi, and the books create a gorgeous, magical vista when the spines are lined up together. The Harry Potter series has been hailed as "one for the ages" by Stephen King and "a spellbinding saga" by USA Today. Now is your chance to give this set to a reader who is ready to embark on the series that has changed so many young readers' lives.
Ages

8, 9, 10, 11, 12

Interest Level

Grades 3 - 5

Publisher

Scholastic Inc.

Genre

Adventure, Fantasy
About the Author and Illustrators
J. K. Rowling
Joanne Rowling, author of the Harry Potter book series, was born in Chipping Sodbury near Bristol, England. After she graduated from Exeter University, she found work as a secretary, and later spent time teaching English in Portugal before moving to Edinburgh, Scotland, with her daughter. She currently resides in Scotland with her husband and three children.
Mary GrandPré
Mary GrandPré uses her artistic talents to transform the images of Harry Potter from words to pictures. She lives in Minnesota with her husband, Tom Casmer, and dog, Chopper. The dog is part Saint Bernard, shepherd, and Lab.
Kazu Kibuishi
Kazu Kibuishi is the Eisner-nominated creator of the #1 NEW YORK TIMES bestselling Amulet series, and of a collection of his popular webcomic, COPPER. He is also the cover illustrator of the 15th anniversary paperback editions of the Harry Potter series. He lives in Alhambra, California, with his family.
The Reading Toolkit